Bath to Handicap Shower Conversions
At American Bath Resurfacing we are one of the leading experts in bath to shower conversions.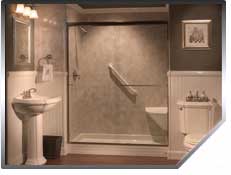 We can turn your broken-in tub into a beautiful brand new shower. One of the services we offer, that we are especially proud of, is converting bathtubs into handicap accessible showers. For some people, showers are simply more convenient than bathtubs. For others, a bathtub conversion to a safe, convenient and easy to clean shower can greatly extend the length of time they can stay in their own home. But for a select demographic, a bathtub is not a viable option.
For those who require the use of a wheelchair, a basic bathtub can be difficult to access. This is especially true for the elderly and those who do not have the upper body strength to lift themselves out of their wheelchair into the tub, and vice versa. It can also be difficult to bathe in a bathtub if the soap, shampoo, and conditioner are out of one's reach. This is where American Bath Resurfacing can help improve the lives of handicap individuals.
Some of the features we include in handicap shower stalls are a built-in seat and well placed grab bars. The seat is provided so those wheelchair bound can continue to be comfortable while enjoying a refreshing and hot shower. Grab bars make it easier to move from the shower seat to the wheelchair without fear of injury. You can also choose from dozens of color and style options – we offer a large range of accessories that allows you to give your new shower your personal touch. Our goal is to provide our clients the confidence of knowing they have the safest and most convenient bathing environment possible.
Looking to convert your bathtub into a handicap accessible shower? Learn more about our bathtub conversion services and contact us today!