Ceramic Tile Repair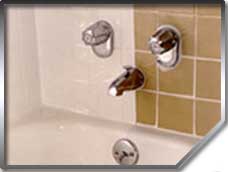 Unsightly ceramic tile that's old, dull, or even cracked can make your kitchen or bathroom look shabby. We can solve that problem without remodeling your whole room.
Our ceramic tile repair service has several benefits versus costly replacement. Since tile resurfacing is performed by spraying a coating directly over the existing tile, there's no messy removal of your old tiles. An often unexpected benefit of ceramic tile repair is that you don't have to worry about ugly grout lines and the potential to build mildew in your grout. Our ceramic tile repair completely seals in the grout preventing any possibility of mildew!
Call and ask about our ceramic tile repair services!
Kitchen Ceramic Tile Refinishing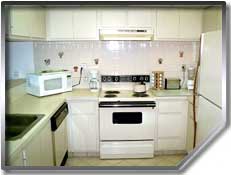 Kitchen ceramic tile refinishing restores your countertop or wall tiles to like-new condition. Once cured, our ceramic tile refinishing leaves a high gloss and is as durable as the original surface and easy to clean. And with the grout completely sealed, cleaning is really a snap!
Update the look of your kitchen by changing the color of your tiles without the mess and cost of actually replacing them.
Most of our customers feel that because the grout is sealed, our ceramic tile refinishing results in a surface that's superior to brand new tile.
Call the NJ ceramic tile refinishing experts now!
Bathroom Tile Repair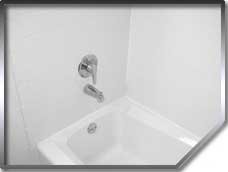 Our bathroom tile repair process involves cleaning, spot checking and filling grout lines if applicable. We acid etch the surface for optimal adhesion, then we apply three coats of epoxy undercoat and six coats of topcoat. While we're at it, we're able to give your bathroom a whole new look by changing the color of your old, outdated tiles.
Like bathtub refinishing, most bathroom tile repair jobs are completed in four to five hours and you can begin using the surface in about 24 hours. For floors, walls, or tub and shower enclosures, our bathroom tile repair services will save you money, mess and time. And cleaning the refinished and repaired bathroom tiles is even easier than before we refinished them.
Ask today about how much you can save with bathroom tile repair and resurfacing.
Customer Reviews