Countertop Resurfacing
Countertops in the kitchen and bath are expensive. Some are more durable than others, but all are subject to scratching. Even polymer countertops like Corian will scratch if you're not very careful. They look so good, and they're so nice and solid that people often cut food on them without a cutting board. Bad idea! Before you know it, the surface is full of scratches.
Countertop resurfacing to the rescue! There's no reason to replace your expensive countertop, nor do you have to suffer and live with those scratches forever. Our countertop resurfacing techniques restore the original shine and luster to your countertop at a small fraction of the cost of a replacement. Countertop resurfacing removes scratches and moderate gouges, then restores the original surface like new.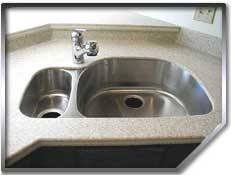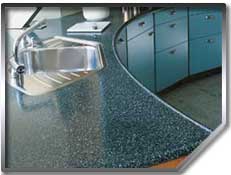 No matter where you live in New Jersey, we can resurface your countertop quickly, conveniently, and affordably.
Call and ask about countertop resurfacing today!
By the way, once your countertop is gleaming again, how does your sink look? We do porcelain sink repairs and stainless steel sink polishing!
Need more? We also do kitchen cabinet remodeling, refacing and refinishing.
Customer Reviews