Expert Bathroom Remodeling in New Jersey
Is your one piece fiberglass bathtub or stall shower worn or cracked? Did you get big estimates to fix or repair it? We can replace your damaged or worn fiberglass unit in just one day and when we're done you won't have to redecorate. Because of our unique wall surround we are able to repair your walls out to the existing wall paper, tiled or painted surface eliminating the need to do repair work after your new tub and walls are installed and we are completed in just one day.
Bathroom remodeling can be as simple as installing a bathtub insert to make your tub look like new or a bathtub conversion to make your life easier. Whatever type of bathroom remodel you're looking for, we can help.
Find out more about our expert bathroom remodeling.
Bathtub Conversions Turn an Old Tub Into a New Shower
We are the leading experts at bathtub conversions to showers – converting old tubs to brand new showers. For some people, showers are simply more convenient than bathtubs. For others, a bathtub conversion to a safe, convenient and easy to clean shower can greatly extend the length of time they can stay in their own home. We'll make sure your new shower has a built-in seat, well placed grab bars and easy to clean grout free walls for the confidence of knowing you have the safest and most convenient bath environment possible.
Bathtub to Shower Conversion
We will convert your old bathtub into a sparkling new shower in just one day. Our innovative shower base and wall installation process eliminates the cost, mess, and stress of traditional tear-out and replacement. You can choose from a wide variety of shower base options. You can choose from dozens of color and style options – we offer a large range of accessories that allows you to give your new shower your personal touch.
Call us today for more details on bathtub conversions.
Before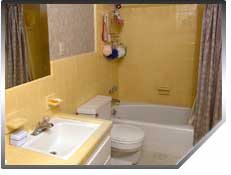 After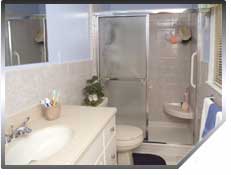 Bathtub Inserts Make Your Tub Look Like New
If replacing your old tub is not an option for you, bathtub inserts can be just as effective in bathroom remodeling. At a fraction of the cost of a new tub, bathtub inserts are strong and durable and are installed right over the old tub without any plumbing changes. Consider this when a total bathroom remodel is too expensive.
Find out more about installing bathtub inserts.
Before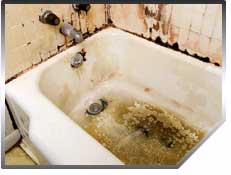 After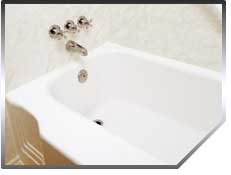 Imagine the Possibilities!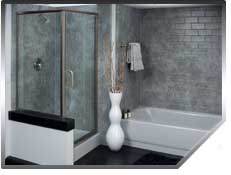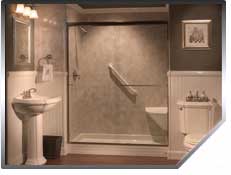 Wall Surrounds