Ceramic Floor Tile Installation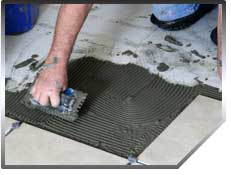 There are a number of benefits to having a ceramic floor tile installation in your New Jersey home. In addition to the fact that it requires little in the way of maintenance, this type of flooring ranks high among the most durable and damage-resistant flooring types. Ceramic floor tile lasts longer than most other flooring, making it a sound investment for your home.
Tile décor options are limited only by your imagination. Tile types run the gamut from southwestern to sophisticated; you can literally find a pattern or color to match any room of your home. Colors range from bright and bold to muted and conservative; no matter what you are looking for, we can provide it for you.
The ceramic tile floor installation process is simple, but should be handled by a flooring professional to ensure that the tile functions and presents as it should. If you find you are in need of ceramic floor tile installation, it's best to consult with us to arrange to have tile flooring installed in your NJ home.
In terms of cost-effectiveness, investing in a ceramic floor tile installation may be the most sound flooring investment you can make for your home. An added bonus is the fact that a ceramic tile floor installation in your home increases the potential resale value as prospective buyers will instantly notices your beautifully designed tile flooring.
If you're a NJ homeowner, call and find out how easy and affordable ceramic floor tile installation can be!
Floor Tile Repair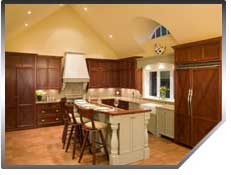 Even with the best ceramic floor tile installation, ceramic tile flooring can become damaged over time. Most often, the damage comes in the form of cracks, as the result of heavy objects being dropped on the floor. Tile can also come loose as the surface below it shifts from natural movements, such as settling of your house or small movements of the ground. Grout can also become dislodged over time as well as mold or crack. Expert floor tile repair is available to maintain the look and durability of your flooring.
In most instances, specific floor tile repair is far more cost-effective for you if we can replace individual broken tiles instead of replacing the entire floor. If you are dealing with an issue of chipped tile, it's not a good idea to simply glue it back in place. This kind of repair is quite visible and the glue may not hold for long. Your best bet is to work with a floor tile repair professional to replace that particular tile. If you are the type of homeowner that plans ahead, keep extra squares of tile when the flooring is originally installed in case you eventually need to replace broken or chipped tiles. Most manufacturers have the same tile in the same color, but each batch has its own particular shade, so matching can be difficult. While this can be a do-it-yourself job, working with a New Jersey flooring professional on your ceramic tile floor installation will ensure that the tiles match and that the floor tile repair job is done the right way the first time around.
Call to find out if ceramic floor tile repair is best for your problem.
Need more? We also do hardwood floor installation, refinishing and repair.
Customer Reviews