Hardwood Floor Installation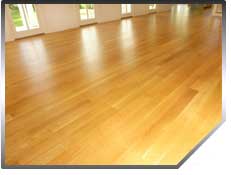 In today's environment of upscale home décor and ever-changing home improvement options, people are looking for flooring that is both stylish and able to stand up to daily wear and tear. From carpeting to linoleum, the alternatives are almost endless. However, one stands out from the rest: hardwood floors.
The cost factor for most hardwood floor installations is about the same as high-grade vinyl or carpet. Hardwood flooring has a naturally warm quality that acts as an insulator because of the many tiny air chambers found in each cubic inch of floor.
Hardwood floor installation is best left to a professional to ensure that the job is done correctly. You want the hardwood floor installation to be done correctly the first time, and you want to minimize the inconvenience of the process. Make sure that your installer is very conscious of your time and convenience, minimizing both noise and mess. In NJ, your best bet is American Bath Resurfacing. Don't be fooled by our name – we know hardwood floors.
Call for an estimate on your hardwood floor installation today!
Hardwood Floor Refinishing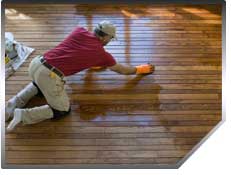 If your floor sustains damage, hardwood floor refinishing can almost always take care of the problem without your having to replace the entire floor. We can smooth our gouges and scratches and then apply one of several hardwood floor refinishing products to protect the wood and retain its appearance.
Hardwood flooring is one of the most durable options on the market. Moreover, professional hardwood floor refinishing can both repair and prevent discoloration and maintain a beautiful sheen. There are few flooring products on the market today that can boast the durability and longevity of a properly installed hardwood floors. Some homes still have hardwood floors that were installed two hundred years ago! Investing in expert hardwood floor refinishing can extend the life of your floors and add overall value to your home.
Hardwood Floor Repair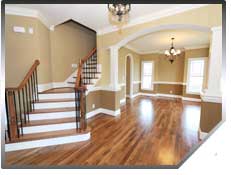 Comfortable and sophisticated, hardwood flooring is easier to care for than most homeowners realize; with proper wood floor refinishing, maintenance is easy. And if your floor should accidentally be damaged, hardwood floor repair is always available.
If you want a flawless floor, then a New Jersey hardwood floor repair technician can help, no matter what section of flooring is damaged, and in most cases without having to pull up a large swatch of flooring in your home. Done properly, hardwood floor repair will be undetectable and the repaired sections of your for will perfectly match the rest.
If you're in New Jersey, call us for your hardwood floor refinishing or repair needs.
Need more? We also do ceramic tile floor installations and repair.

Customer Reviews