Porcelain Repair and Stainless Steel Sink Polishing
We're experts in bath and kitchen resurfacing, specializing in porcelain repair (including porcelain sink repair for bathroom and kitchen sinks) and stainless steel sink polishing. We also resurface bathtubs and countertops.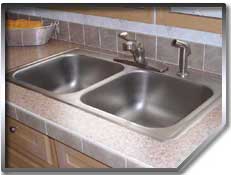 Porcelain Repair
Porcelain is a very sturdy finish for surfaces and fixtures that are exposed to lots of water. It's a ceramic, sometimes over a steel core. As a ceramic, there's a certain degree of brittleness inherent in the material. Occasionally a porcelain fixture will chip or crack, but that doesn't mean you need to replace it! We provide expert porcelain repair services throughout New Jersey.
Call us for an estimate on your porcelain repair job.
Porcelain Sink Repair
By far the most calls we get for porcelain repair are for porcelain sink repairs. It seems that bathroom sinks, and especially kitchen sinks, are subject to the most chances of coming in contact with something hard. Drop a large pot of water on he corner of your kitchen sink and you're lucky if you escape with just a scratch.
Before
This porcelain sink was in pretty sad shape, wasn't it?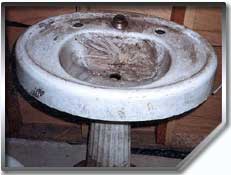 After
Boy, did our porcelain sink repair make a difference to this sink!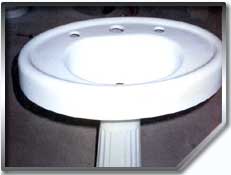 Porcelain sink repair is a specialty of ours. Whether it's scratches that need to be refinished or chips and cracks that need to be repaired and refinished, we're the New Jersey experts you need. We have years of experience with porcelain sink repairs and can return your sink to near perfect condition quickly, cleanly and inexpensively.
Call us today to take care of your porcelain sink repair
Stainless Sink Polishing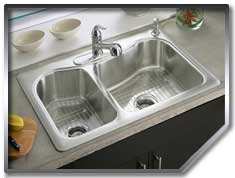 If you've got a stainless steel sink, chance are you thought it would be impervious to everything. While it's true that it's probably never going to develop a chip or crack, you may have discovered that it can be scratched.
Save that unsightly, scratched surface with our special techniques of stainless steel sink polishing. Quality stainless steel sink polishing restores the look of the original brushed finish of your sink. With stainless steel sink polishing, you don't have to be embarrassed by the old-looking, scratched sink. And you don't need an expensive replacement either. Just call New Jersey's experts in stainless steel sink polishing, American Bath Resurfacing.
Call today and see how affordable stainless steel sink polishing can be!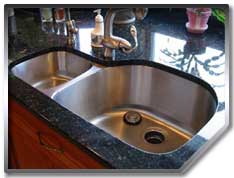 If you're thinking about renewing the look of your sink, consider our bathtub refinishing services, too. And with the sparkling new look that will give to your fixtures, do you need countertop resurfacing? We do that, too!
Throughout New Jersey, you won't find anyone who can do a better job. We also do bathroom and kitchen remodeling.
Customer Reviews