Bathtub Refinishing
American Bath Resurfacing is New Jersey's expert in bathtub refinishing. Avoid the expense and inconvenience or replacing that old, scratched bathtub. Repair it instead! It'll look like new, wear like new, and save you money. The bathtub reglazing experts at American Bath Resurfacing can help.
Call and ask if bathtub reglazing is what you need!
Before
This bathtub was a shade of pink that was popular several decades ago, and it no longer matched the rest of the bathroom.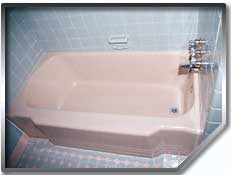 After
After reglazing to restore the finish in brilliant white to match the new decor, the tub looks like new!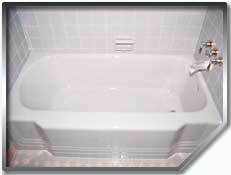 SPECIAL
Bathtub Resurfacing and 3 Walls
only $799 & up
Bathtub Repair: The Less Expensive Alternative
Replacing an old chipped or scratched bathtub is expensive, messy, and inconvenient. And finding a new tub that will fit perfectly with the rest of your bathroom may not be easy either. Nine times out of ten, it's not necessary to replace your old tub.
Bathtub repair is the answer. Our bathtub refinishing experts can repair your bathtub so it looks brand new. The enamel finish will be flawless and will wear for years. No matter where in New Jersey you live, we're ready to repair and refinish your bathtub promptly, cleanly, and conveniently.
Replacing a bathtub is time consuming and messy and usually involves 3 tradesman. Replacing the tub with a new one may involve a tile setter, a plumber and most likely a carpenter to repair unavoidable damage to the sub flooring and surrounding areas. A recent survey estimated the cost between $1,700 and $3,000. You can save up to 70% by having us refinish your old tub.
Call the NJ bathtub repair experts now!
Before
This fiberglass bathtub was accidentally punctured by a 2×4. (Don't ask how!)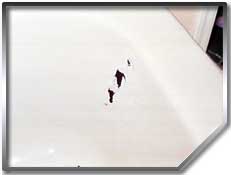 After
After our bathtub repair, the tub really does look like new!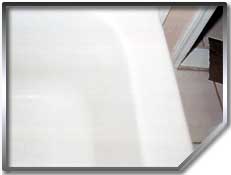 ---
Bathtub Reglazing: How Does It Work?
Here's the bathtub reglazing process, in a step-by-step overview:
Acid-etch the tub, which removes the old finish and leaves it dull and ready to prime prior to reglazing.
Sand to smooth any imperfections and blend them in so the surface is ready for the rest of the bathtub reglazing process.
Tac-cloth and smooth the tub.
Apply a chemical primer and a ceramic bonding agent – a critical step in the bathtub reglazing process.
Spray two or three coats of primer, as necessary, and allow it to dry.
Mix a two-part top coat, consisting of resin and a catalyst, and prepare to spray the top coat.
Spray the tub, giving you a total of six or more coats of bathtub reglazing and leaving you with a like-new finish.
Allow 48 hours to dry before use.
Don't delay! Your bathtub won't improve over time. It needs us to look and feel better.
Ask today about how much you can save with bathtub reglazing.
Before
This tub appears hopelessly stained. Who would have thought it was salvageable?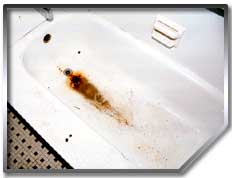 After
After reglazing to restore the finish in brilliant white to match the new decor, the tub looks like new!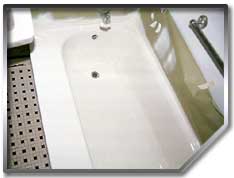 Customer Reviews